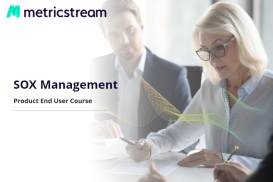 Product / End User Course
SOX – End User Course
Course Overview:  The MetricStream SOX Compliance product allows you to resolve Sarbanes-Oxley Act (SOX) compliance challenges by designing, assessing, and improving the internal controls. The product monitors compliance processes in detail and p...
Lesson

SOX App – Comprehensive Course (250 Minutes)

Lesson

Overview and Navigation

MetricStream SOX Compliance Management enables enterprises to effectively address SOX compliance challenges, and reduce the time and costs involved in managing compliance. The product supports the p...

Lesson

Libraries

The GRC Foundation is a comprehensive set of libraries and visualizations that provides the business users the capabilities to model their specific enterprise libraries requirements.

Lesson

Self-Assessment and Testing

Testing or Compliance Testing determines the extent to which the staff follow prescribed policies and procedures in actual practice. It compares procedures as executed against required or expected ...

Lesson

Risk Assessments

The Risk Assessments  module enables you to identify, assess, quantify, monitor, and manage enterprise risks in an integrated manner.

Lesson

Certifications

Use the Certifications module to conduct one-time or periodic certifications and sub-certifications to check if the organization pays particular attention to an area that is perceived as being wea...

Lesson

Issues

The Issues module helps in issue reporting, loss event tracking, task management, and status reporting. It supports the identification and evaluation of issues as well as case investigation and tra...

Lesson

SOX: Product Setup

MetricStream components can be tailored to specific requirements of an organization in different ways. This unit covers the most common requirements and functions performed by an 'Apps Administrato...

Lesson

SOX: Enhancements

Recent enhancements in SOX

Lesson

SOX Practice

Please reach out to your trainer for credentials to the practice instance before starting this unit.