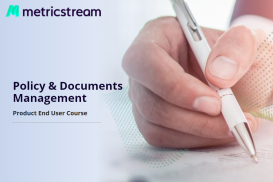 Product / End User Course
Policy & Document Management – End User Course
Course Overview: Policy and Document Management (PDMS) provides organizations a single repository for storage and access to policies and documents. The App also provides a consistent framework to create, manage and update policy documents in addi...
Lesson

PDMS: Overview

Policy and Document Management (PDMS) enables organizations to adopt an electronic and automated approach for a complete lifecycle management of policies from creation, review, approval, communicat...

Agenda & Overview (14 Minutes)

Lesson

PDMS: App Administration & Setup

This unit covers the primary functions of a PDMS App administrator including: Creating document categories Creating document privilege's Creating & Managing user access groups Creating Lifecy...

Lesson

PDMS: Attachment Based Document

As an author, you can assign a document lifecycle to an existing document as well as associate references and GRC Content with the document. You can also add attestations and notification, if requi...

Lesson

PDMS: Inline Based Document

Organizations need to create guidelines to establish consistency and standardization across documents and policies. You can achieve this by creating inline documents, which allows you to: Use stan...

Lesson

PDMS: Reports

Policy users may have access to a number of PDMS reports that may be used for analysis, decision making, and follow-up actions. Reports are displayed in tabular, tile, and graphical views. You can ...

Lesson

PDMS: Enhancements

Policy & Document Management enhancements in Colorado and Danube

Lesson

PDMS: Practice (2.5 Hours)

Please reach out to your trainer for credentials to the practice instance before starting this unit.