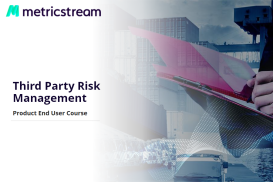 Product / End User Course
Third Party Risk Management – End User Course
Course Overview: The MetricStream Third Party Risk Management (TPRM) product enables a comprehensive process to identify, assess, mitigate, and monitor third-party risks & manage compliance. The product streamlines third-party information gat...
Lesson

TPRM: Overview & Navigation

Every organization that engages with a third party has to ensure that the third party protects the confidential IT information, complies with regulations, avoids unethical practices, maintains a sa...

Lesson

TPRM: Planning and Process Definition

Helps the organizations to define a process to qualify, segment, and rank third parties by sequencing appropriate self-assessments and questionnaires based on the rules. Planning and process defini...

Lesson

TPRM: Segmentation and Due Diligence Assessments

Allows the respondents to respond to the assessment questions based on the questionnaire. Once the third party engagements are approved, the first survey assessment of the associated due diligence ...

Lesson

TPRM: Issues

Helps reporting issues along with defining an action plan to address the problems.

Lesson

TPRM: Continuous Monitoring

Helps you facilitate a continuous monitoring process through relevant periodic risk assessment tasks that can be automated based on the due diligence results.

Lesson

TPRM: Product Setup

MetricStream components can be tailored to specific requirements of an organization in different ways. This unit covers the most common requirements and functions performed by an 'Apps Administrato...

Lesson

TPRM: Product Enhancements

Third Party Risk Management Product updates in Colorado and Danube releases. 

Lesson

TPRM: Practice (4 Hours)

Please reach out to your trainer for credentials to the practice instance before starting this unit.