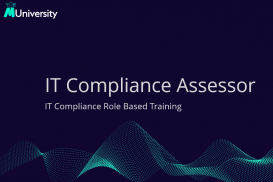 M7 Functional Course
IT Compliance Assessor - Role Based Course
Course OverviewThe IT Compliance Assessor is responsible for the overall IT-Compliance assessment activities. This course focuses on the IT Compliance Assessors day to day tasks including responding to assessments, surveys, creating and managing I...
Lesson

IT-CMP (Assessor): Overview & Navigation

IT-Compliance Management (IT-CM) product ensures appropriate actions are taken to execute governance objectives based on stated risk tolerance for the business. An effective IT Compliance process c...

Lesson

IT-CMP (Assessor): Compliance Testing

Testing or Compliance Testing determines the extent to which the staff follow prescribed policies and procedures in actual practice. It compares procedures as executed against required or expected ...

Lesson

IT-CMP (Assessor): Survey Response

Surveys allows organizations to set up questionnaires for surveys, scorecards, and certifications which are sent to respondents to collect information and make decisions.

Lesson

IT-CMP (Assessor): Issues Management

The Issues module allows companies to establish and follow consistent procedures for issue reporting, task management, and status reporting. It supports the identification and evaluation of issues ...