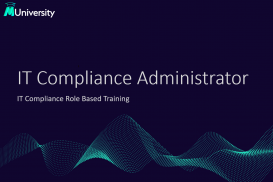 M7 Functional Course
IT Compliance Administrator - Role Based Course
Course OverviewThe IT Compliance Manager is responsible for setting up the required configurations for IT-Compliance Management program. This course focuses on the Administrators tasks and enables participants to understand and configure the appli...
Lesson

IT-CMP (Administrator): Overview & Navigation

IT-Compliance Management (IT-CM) product ensures appropriate actions are taken to execute governance objectives based on stated risk tolerance for the business. An effective IT Compliance process c...

Lesson

IT-CMP (Administrator): App Administration

MetricStream components can be tailored to specific requirements of an organization in different ways. This unit covers the most common requirements and functions performed by an 'Apps Administrato...