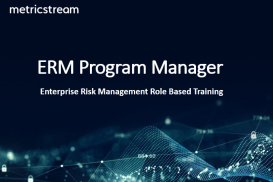 M7 Functional Course
ERM Program Manager - Role Based Course
Course OverviewThe ERM Program Manager is responsible to the Chief Risk Officer for managing the ERM Program across the enterprise –from setting up the libraries, overseeing Risk Assessments and Mitigation, and tracking Issues and Actions to closu...
Lesson

ERM: Overview & Navigation

Enterprise Risk Management (ERM) App provides a comprehensive system to manage risks in a streamlined, efficient, and integrated manner. The App helps you effectively identify, assess, monitor, and...

Lesson

ERM: GRC Libraries

GRC Foundation is a comprehensive set of interlinked libraries that form the underlying GRC framework for all GRC-related activities across the enterprise. It is an add-on component to the base Met...

Lesson

ERM: Metrics

The Metrics module provides a comprehensive approach to define key performance or key risk indicators and a powerful framework to evaluate risks, core objects, controls or organizations and assess ...

Lesson

ERM: Self Assessment & Testing

Testing or Compliance Testing determines the extent to which the staff follow prescribed policies and procedures in actual practice. It compares procedures as executed against required or expected ...

Lesson

ERM: Risk Assessments

The Risk Assessments module enables organizations to identify, assess, quantify, monitor, and manage their enterprise risk in an integrated manner. It brings together all risk management related da...

Lesson

ERM: Issues Management

The Issues module allows companies to establish and follow consistent procedures for issue reporting, task management, and status reporting. It supports the identification and evaluation of issues ...

Lesson

ERM: Product Setup

MetricStream components can be tailored to specific requirements of an organization in different ways. This unit covers the most common requirements and functions performed by an 'Apps Administrator.

Lesson

ERM: Practice

Please reach out to your trainer for credentials to the practice instance before starting this unit.