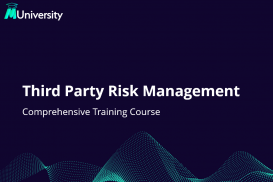 Uncategorized
Third Party Relationship Manager - Role Based Course
Course OverviewThe Third Party Relationship Manager is responsible for managing new relationships & performing assessments, tracking all the issues/finding related to onboarding, monitoring and termination. Level – BasicCourse Duration – 1.5 H...
Lesson

TPR: App Overview

Every organization that engages with a third party has to ensure that the third party protects the confidential IT information, complies with regulations, avoids unethical practices, maintains a sa...

Lesson

TPR: Planning and Process Definition

Helps the organizations to define a process to qualify, segment, and rank third parties by sequencing appropriate self-assessments and questionnaires based on the rules. Planning and process defini...

Lesson

TPR: Segmentation and Due Diligence Assessments

Allows the respondents to respond to the assessment questions based on the questionnaire. Once the third party engagements are approved, the first survey assessment of the associated due diligence ...

Lesson

TPRM: Issues

Helps reporting issues along with defining an action plan to address the problems.