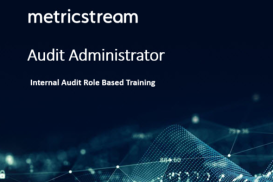 M7 Functional Course
Audit Administrator - Role Based Course
The Audit Administrator is Accountable for managing all the setup related to the Internal Audit Program. This course focuses on the tasks performed by the Audit Administrator such as setting up Auditor Profiles, Milestones, Checklist/Procedure, Ex...
Lesson

Audit Administrator - Role Based Course

Lesson

App Administrator

MetricStream components can be tailored to specific requirements of an organization in different ways. This unit covers the most common requirements and functions performed by an 'Apps Administrato...