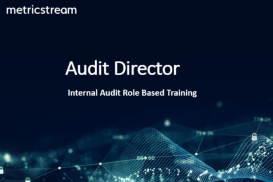 M7 Functional Course
Audit Director - Role Based Course
The Audit Director is responsible for defining the Audit Plan using the capabilities such as advisors and risk assessments which effectively leverage risk metrics for defining the enterprise internal audit strategy. This course focuses on the task...
Lesson

Audit Universe

Audit Universe helps you manage the content that is used in performing the audits. You can relate one content with the other. On the Audit Universe tab, you can create: Processes Auditable ...

Audit Universe (23 Minutes)

Checklist Procedure (13 Minutes)

Lesson

Risk Assessments

The Risk Assessments module provides a centralized risk framework to document, manage, and assess risks faced by an organization. In Internal Audits, use the Risk Assessments page to: Schedule...

Lesson

Audit Planning

Use the Audit Plans page to: Create and publish audit plans containing multiple audits Create an audit plan for one or more years, as required Select the audit type that suits your audit (organi...

Lesson

Resource Management

The modules help you manage and edit schedules of projects, allocate resource to each project.