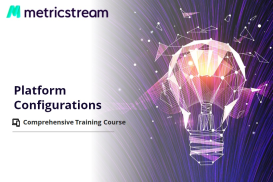 M7 Platform / Design, Development & Support Courses
Platform Configuration - Comprehensive Course (Self Study)
Course Overview: The MetricStream Platform provides a framework that enables customers and partners to configure the application based on customer use case. The framework ensures that the configurations or changes made remain intact, while incorpo...
Lesson

Introduction to M7 Platform

Introduction to the Course, Overview of M7 Platform, Platform Navigation & Features

Platform Navigation and Features

Lesson

Platform Org Setup - MDOS

Lesson

Roles - MDOS

Create and Manage Role, Activities and Objects

Lesson

Introduction to Infocenter

Create and Manage Infocenter, Infoport and Infocenter Link

Lesson

User Management - MDOS

Lesson

Config Param, LOV's, Data Tables

Create and Manage Developer Entities like, Data Table , LOV

Lesson

Task Management

Understand and Manage the Tasks

Lesson

SMC

Understand how to monitor different aspects of System's Health

Lesson

Data Upload

understand Dataupload and learn how to upload data using templates

Lesson

Overview of Infolets

What are Infolets, What are the different features of infolet, what are the idfferent kinds of infolets that can be created.

Lesson

Introduction to Reports

Understand MSI Report Builder, Report Builder wizard and how to create a Report.

Lesson

Types of Reports

Learn to create other types of Reports

Lesson

Report Settings

Understand Report Settings like Apply color condition. Manage Output and Export Settings

Lesson

Data Universe & Self Service Reporting (Update)

Setup a data universe of the related objects and create reports using the data universe. This is a new feature released in Euphrates version.

Lesson

Overview of Charts

Lesson

Charts and Dashboards

Create Charts and  Dashboards

Lesson

Upgrade Safe Configuration

How to perform upgrade safe configurations.

Lesson

Configuring Forms

Overview of Appstudio, Configuring Forms, adding/showing/hiding fields, sections etc.

Lesson

Advanced Form Configurations

Performing advanced form configurations.

Lesson

Configuration Utilities (Update)

Configuring products using the configuration utilities provided as part of euphrates release.

Lesson

Hands-On Activities

MDOS Org Set up, Role and Infocenter, Create User, Developer Entities, Data Upload Hands-On Activities

Lesson

Assessment and Certification

Thank you for completing this Course. Kindly reach out to your instructor at [email protected] for the certification assessments

Lesson

AppStudio Forms - MPower API's & JS

Perform form field validations and set default values and field properties using MPower API's and Java script.