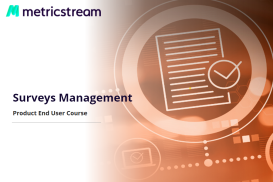 Functional Training
Survey Management - End User Course
Course Overview: The MetricStream Survey Management App enables you to manage and track surveys in an automated, systematic, and efficient manner.  The app streamlines  the  flow  of  survey  data  and  information  in  the  enterprise,  and  docu...
Lesson

Survey Management - Product Implementation Course

Lesson

Overview and Navigation

Surveys allows organizations to set up questionnaires for surveys, scorecards, and certifications which are sent to respondents to collect information and make decisions.

Lesson

Setup Questionnaire

Setup Questionnaire is a organized set of steps, procedures, protocols, and information on setting up and search or edit existing the questionnaire for survey/certification/scorecard.

Lesson

Setup Survey

Setup surveys, scorecard, and certification plans in the setup survey stage to receive the responses from the respondents.

Lesson

Respond to Survey

In this stage, the respondents to respond to the surveys/scorecards/certification. Respondents can record and report the details of findings/issues.

Lesson

Approve Survey

After the respondent submits the Survey / Scorecard / Certification, the selected response approver can review and approve responses.

Lesson

Surveys Practice

Please reach out to your trainer for credentials to the practice instance before starting this unit

Lesson

Assessment and Certification

Thank you for completing the course. Kindly reach out to your instructor at [email protected] for access to the following certification assessments: Objective Test Practical Test: T...