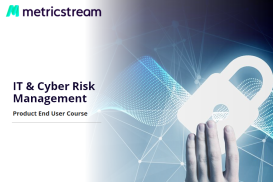 Product / End User Course
IT & Cyber Risk Management - End User Course
Course Overview: The MetricStream's IT-Risk (ITR) Management app helps to assess, measures, and monitors IT operational and security risks in relation to strategic goals and objectives of the organization. The app also helps quantify the risk in ...
Lesson

Overview & Navigation

IT and Cyber Risk Management product provides a systematic approach for identifying, assessing, and treating information security risks on business-critical processes, information technology assets...

Lesson

GRC Libraries

GRC Foundation is a comprehensive set of interlinked libraries that form the underlying GRC framework for all GRC-related activities across the enterprise. It is an add-on component to the base Met...

Lesson

Qualitative Assessments

Qualitative Assessments module helps you to to schedule risk assessments, assess risks and controls, log findings and issues, and reassess risks.

Lesson

Threats

The Threats module is used to gain insight into the list of threats. You can capture ad hoc threat, alert details, the details of different threats, and threat actors to identify the strength of th...

Lesson

Vulnerabilities

The Vulnerabilities module helps you to gain insight into the list of vulnerabilities. You can capture vulnerability details to identify the severity and exposure level of the vulnerability.

Lesson

Issues

The Issues module allows companies to establish and follow consistent procedures for issue reporting, task management, and status reporting. It supports the identification and evaluation of issues ...

Lesson

IT-Risk - Product Setup

MetricStream components can be tailored to specific requirements of an organization in different ways. This unit covers the most common requirements and functions performed by an 'Apps Administrato...

Lesson

IT and Cyber Risk Management App Practice (4 Hours)

Please reach out to your trainer for credentials to the practice instance before starting this unit.

Lesson

Quantitative Assessment Setup

This unit will show all the objects to be setup as part of the Quantitative Assessments.